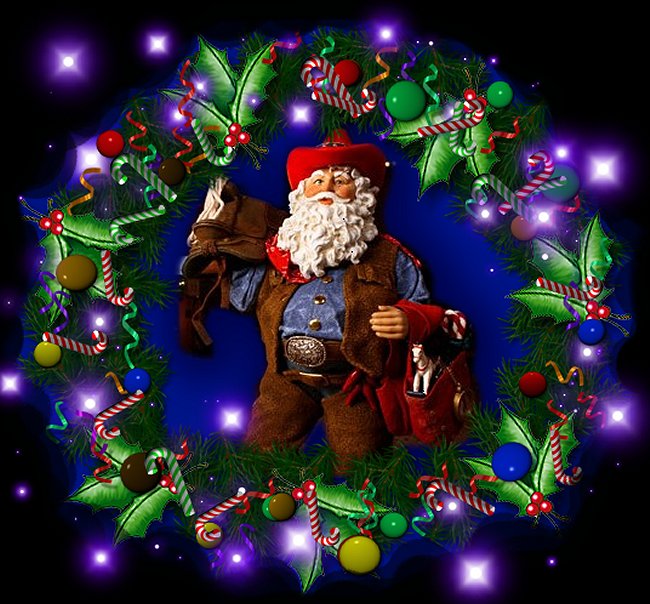 Twas The Night Before Christmas: Texas Style

'Twas the night before Christmas, in Texas, you know.
Way out on the prairie, without any snow.
Asleep in their cabin, were Buddy and Sue,
A dreamin' of Christmas, like me and you.
Not stockings, but boots, at the foot of their bed,
For this was Texas, what more need be said,
When all of a sudden, from out of the still night,
There came such a ruckus, it gave me a fright.
and I saw 'cross the prairie, like a shot from a gun,
A loaded up buckboard, come on at a run,
The driver was "Geein" and "Hawin", with a will,
The horses (not reindeer) he drove with such skill.
"Come on there Buck, Poncho, & Prince, to the right,
There'll be plenty of travelin' for you all tonight."
The driver in Levi's and a shirt that was red,
Had a ten-gallon Stetson on top of his head.
As he stepped from the buckboard, he was really a sight,
With his beard and moustache, so curly and white.
As he burst in the cabin, the children awoke,
and were so astonished, that neither one spoke.
and he filled up their boots with such presents galore,
That neither could think of a single thing more.
When Buddy recovered the use of his jaws,
He asked in a whisper, "Are you really Santa Claus?"
"Am I the real Santa? Well, what do you think?"
and he smiled as he gave a mysterious wink.
Then he leaped in his buckboard, and called back in his drawl,
"To all the children in Texas, Merry Christmas, Ya'll"




Last (????) Mark Down
All of the sale items have been reduced AGAIN .. I think we're just about as low as we can go but who knows how this limbo dance will go! There are some nice fetishes here guys .. don't miss this opportunity to snatch up some good deals while we're in a 'git er done' mood!



Redesigning Zunispirits.com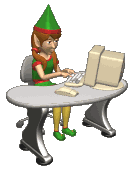 Look for a fresh coat of paint and all the furniture to be rearranged after the new year. I have a low boredom threshold and as much as I have enjoyed this particular design for Zuni Spirits, I decided it was time for a change. Soooo, all thru the holidays I will be working my little coding fingers to the bone to make things all fresh and bright for the New Year. Don't worry it won't be
DRASTICALLY
different. You'll still recognize the place but,as usual, if you find a bug (or two) .. please let me know. I make every effort to be PERFECT ... well, just think how BORING
that
would be! HA!
Guess that's it for this week. I can't believe that Christmas Eve is just a week away. Don't forget to remember how magical and joyful you were at age eight. Let's all be EIGHT again!
Merry Christmas!