Sale items, more and better!
The following items have been added to our list of discounted Zuni fetishes. They are beautiful Zuni creations. Don't miss this opportunity to add to your collection.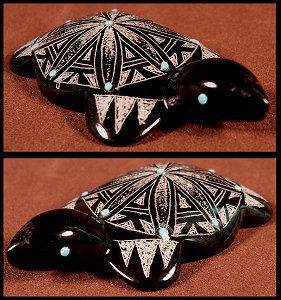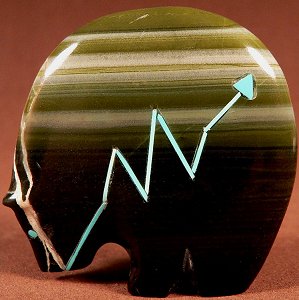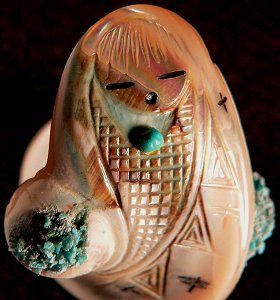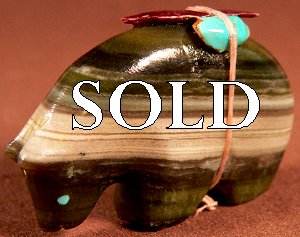 These items have had further reductions to their prices! Check it OUT!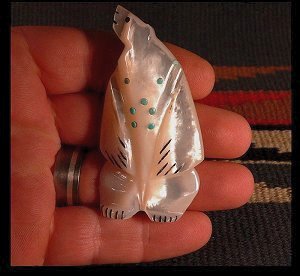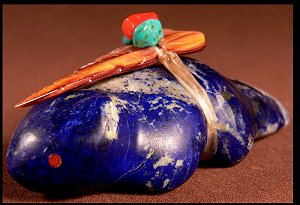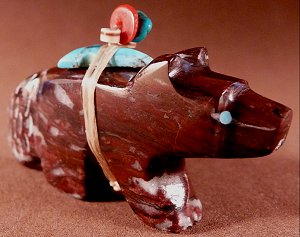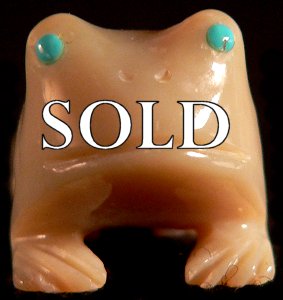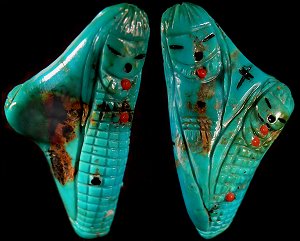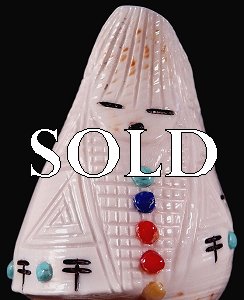 We invite you to check out these and all the other treasures currently showing at Zunispirits.com!
Manuel WEAHKEE Show coming up!
Manuel Weahkee has sent us a shipment of wonderful new carvings. He is now the lone carver in the family. Both Daniel and Nathaniel have taken jobs with the local oil industry and are doing very well. But their new jobs leave them no time for carving. We're hoping that someday they'll return to carving beautiful fetishes but in the meantime we wish them all the best.
Stay tuned for further details about Manuel's show.
N E W Stuff from ZUNILAND!
Today our dear friend and favorite UPS person delivered a wonderful box from Zuni stuffed FULL of the most delightful carvings, gorgeous stones, creative, innovative Zuni fetishes! We can't wait to share them all with you. If you love turquoise, fossil stone, Cowboys, lapis, directional sets, horses, shell, malachite ... you'll want to tune in for all the upcoming postings here @ Zuni Spirits. If you are NOT on our mailing list, please subscribe via the box at the top left of this page. You must then RESPOND to the confirmation email you'll receive to complete the subscription process. Thanks!
Memorial Day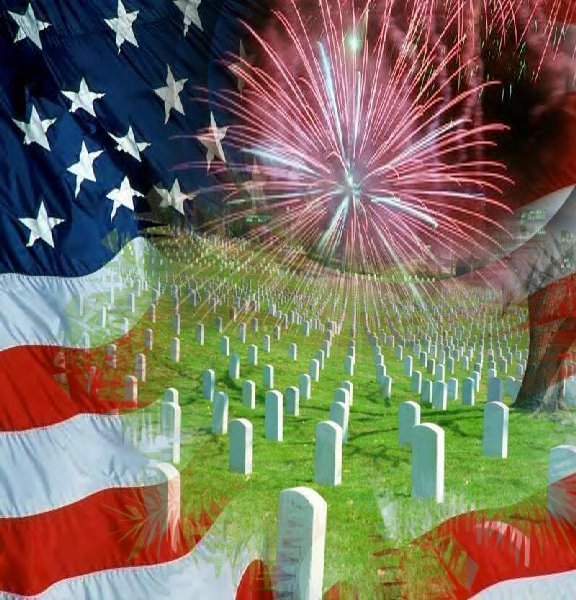 Today I received this email from a friend in Zuni. Though it's directed at the citizens of New Mexico, Congress is asking for a moment of silence throughout the nation at 3 PM on Memorial Day. Sure we love our barbeques and swim parties, our holiday weekends on the boat or at the beach ... but how many of us really stop to think what this holiday is really all about?. Do that. Stop and think. Say a quiet prayer of gratitude to all who have given their lives so that we can live the lives of freedom we enjoy. Happy Memorial Day. Be safe!
New Mexicans Urged to Observe Moment of Silence on Memorial Day Monday, May 25th (3pm) (SANTA FE)-New Mexico Department of Veterans' Services Cabinet Secretary John M. Garcia is asking all New Mexicans to observe the National Moment of Remembrance at 3pm on Memorial Day--to honor the servicemen and women who've lost their lives serving our country. The United States Congress designated this one-minute moment of silence at 3pm local time nationwide--a time when many Americans are enjoying their freedom on this national holiday. It's not intended to replace traditional Memorial Day observances, but rather as a national moment of unity for people to pause during the day's typical picnics, barbecues and gatherings to remember our fallen soldiers. "Memorial Day shouldn't be just about having a three-day weekend, or for marking the beginning of summer," said Garcia. "This moment of silence is a chance to reclaim this special day--even if only for a brief moment--for the noble and sacred reason for which it is really intended: To honor the brave men and women who've died while serving our country." Garcia is also asking radio stations to play The Star Spangled Banner or any other patriotic music at 3pm on Monday to help New Mexicans observe this National Moment of Remembrance.