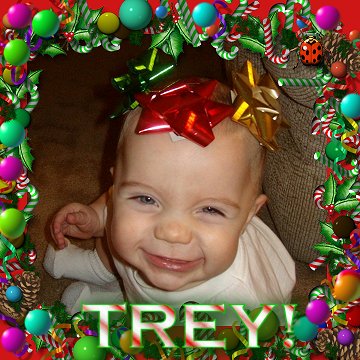 Baby Trey all decorated for Christmas!
As a child I distinctly remember listening to old folks talk about "time flying". Of course that was COMPLETELY irrelevant to me because I thought time crawled by. School days lasted for-EVER, the months till my birthday seemed like years .. Christmas? just a tiny blip on a distant horizon and life, in general, seemed to go by at a snail's pace. But boy-howdy how things have changed! Now that I am middle aged (and YES, I do plan to live to 102, thank you very much!) I know exactly what Grandma was talking about! Here it is December in yet another year winding down at the speed of light.
Dave and I are working on a posting that we will publish Thursday evening (12/4) around 7 PM (Texas Time). This is probably it for the year folks as far as new merchandise. We'll try to have a drop-dead gorgeous showing for you early in 2009. 2009??!! Good Lord ...
Here are some photos of tonight's beautiful sunset.
Happy days everybody -- smile at folks, wave at strangers, drop some coins in a bell ringer's bucket, buy the guy behind you his cup of coffee! In a world so filled with hate .. we all need to show some love! Thanks for looking!