Additional items on SALE
Between our most recent posting (last week) and our next posting (coming soon!) we decided to add a few items to our sale section. So if you have had your eye on a treasure, maybe it's been marked down a bit. We do hope you'll take a peek.
Dave and I sincerely appreciate all of you who continue to support the artisans of Zuni (and us!)
S A L E, updated with NEW items 8/30
Click images to view details & more photos!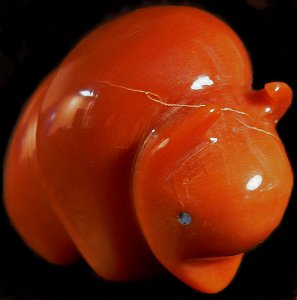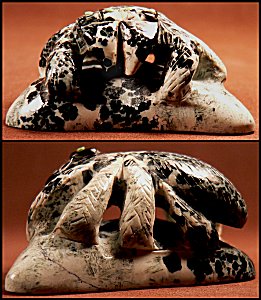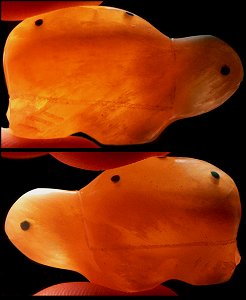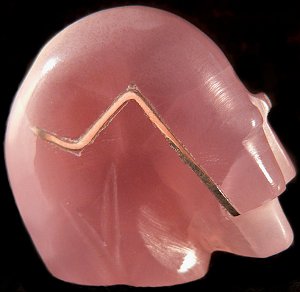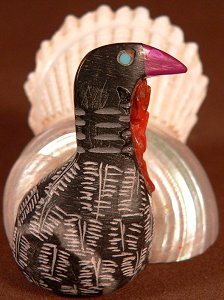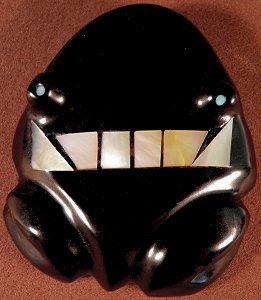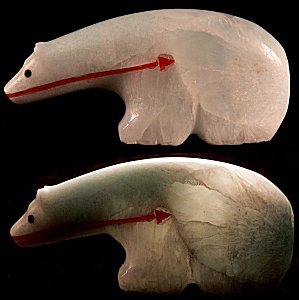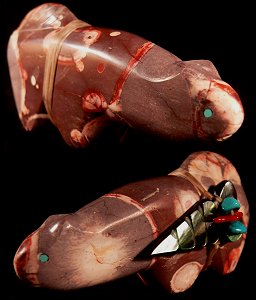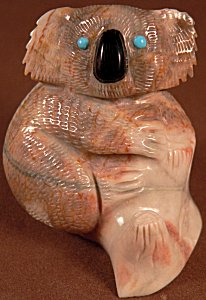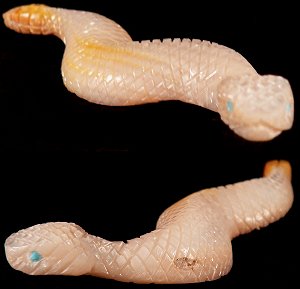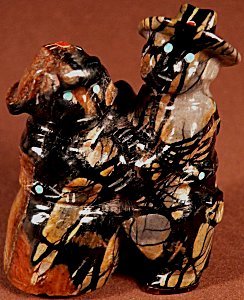 Conversations with a collector
Quite some time ago a well-seasoned collector posed some questions to me in a private email. Some of the questions were pointed to rather "touchy subjects" but I felt compelled to answer out of my respect for him and more importantly, out of my affection and admiration for the Zuni carvers. With his permission I am going to share parts of that discussion here and in weeks to come. Your comments are always welcome. I have to approve them (to eliminate ads and weirdos) but I won't censor anyone who keeps things civil and to the point. Carvers, I especially would love to hear from you and, if you wish, you may remain anonymous. Please use the "COMMENT" link at the bottom of the post.
_________________

Dear Darlene and David,
I want to raise a concern, and I hope you can offer your thoughts and perhaps set me straight one way or another. What follows relates to a general observation, NOT specific to Zuni Spirits or any of the wonderful Zuni carvers. I'm aware that this is moving into sensitive territory, so I hope you won't be offended by what I have to say, the manner in which I've expressed myself, or that I've been brash enough to speak at all! Above all, please understand that I have chosen to approach you for the sole reason that I value your experience, knowledge and professionalism. I certainly would not share any of this with a carver! (I'd be embarrassed for both of us. I did bring up the matter, rather tentatively, with a dealer in _______ but I wasn't given a clear or convincing response; she didn't seem to think my concerns were important.)
FIRST OF ALL I APPRECIATE AN OPEN, HONEST DIALOGUE - ALWAYS - AND THANK YOU FOR YOUR COMMENTS REGARDING OUR PROFESSIONALISM. DAVE AND I WILL NEVER CONSIDER OURSELVES EXPERT AT THIS BROAD AND COMPLEX SUBJECT BECAUSE THERE IS JUST SO MUCH ABOUT THIS ASPECT OF ZUNI RELIGION THAT WE ARE NOT (NOR SHOULD WE BE) PRIVY TO. BUT WE DO RETAIN OUR INITIAL PASSION AND APPRECIATION FOR ZUNI FETISHES AND THE COMMUNITY OF ARTISANS FROM WHICH THEY COME.


IT IS UNFORTUNATE THAT THE DEALER DIDN'T ADDRESS YOUR QUESTIONS OR CONCERNS. DAVE AND I WELCOME THE OPPORTUNITY TO SHARE WHAT WE KNOW AND TO RESEARCH THE ANSWERS TO THINGS WE DON'T KNOW AND WE LEARN NEW THINGS EVERY DAY. THERE ARE SOME SUBJECTS, REGARDING ZUNI, THAT WE DON'T BROACH OUT OF RESPECT AND REVERENCE.

Here it is: My sense is that coral --perhaps other natural materials as well, but it seems most prevalent with the coral - is increasingly being replaced by synthetic, manufactured product. One notices it (or one's suspicions are aroused most readily) in bundles more than in inlay. A case in point might be (again the point right now is merely to relate an observation, not to judge) the beads in ______________'s bear. I can't say that they are, but they "look" plastic.
TO BE VERY HONEST, THERE ARE TIMES WITH BUNDLES THAT I THINK RED SEED BEADS ARE USED AND I TRY (BUT MIGHT NOT ALWAYS) CATCH THE DIFFERENCE. THERE ARE TINY, TINY CORAL BEADS BUT SEED BEADS (PLASTIC OR GLASS) ARE USUALLY UNIFORM IN SIZE, THICKNESS AND IF ONE PAYS CLOSE ATTENTION, USUALLY DISCERNIBLE.
BUT THOSE ARE ALSO THE BEADS (GLASS, OBVIOUSLY) THAT WERE USED IN TRADE BACK IN THE DAY .. AND UTILIZED IN MAKING VARIOUS BEADED IMPLEMENTS AND ACCESSORIES TO NATIVE AMERICAN DRESS. SO TECHNICALLY, I DON'T REALLY SEE A PROBLEM WITH THEM BEING USED TODAY. MUCH OF THE BEAUTIFUL, OX BLOOD MEDITERRANEAN CORAL TRADITIONALLY USED BY NATIVE AMERICANS (AND ARTISANS GLOBALLY) IS SO LIMITED (AND EXPENSIVE!) THAT DYED CORAL IS BEING USED TO REPLACE IT. FOR USE IN BUNDLES, INLAY, ETC., I DON'T TAKE ISSUE WITH THAT, PERSONALLY. I DO TAKE ISSUE IF A CARVER OR A DEALER PASSES SYNTHETIC MATERIALS OFF AS GENUINE CORAL, ANTIQUE .. OR FALSIFIES THEIR ORIGIN IN ANY WAY. BUT THE USE OF CONTEMPORARY BEADS DOES NOT (IN MY HUMBLE OPINION) DETRACT FROM THE BEAUTY OF THE CARVING OR BUNDLE. TECHNICALLY, SOME OF THE 'SINEW' USED TODAY IS ALSO ARTIFICIAL SO WHY NOT PLASTIC BEADS? I THINK THE TALENT OF THE ARTISAN IS IN USING MATERIALS AT HAND IN A CREATIVE WAY. SO IT DOESN'T BOTHER ME.
WITH REGARD TO THAT PARTICULAR BEAR, I HAVE EXAMINED THOSE BEADS IN QUESTION WITH MY JEWELER'S LOUPES AND THEY ARE IN FACT ASYMMETRICAL, OF DIFFERING THICKNESSES, SIZES AND APPEAR TO MY EYES AS REAL CORAL BEADS.
AS WONDERFUL AS DAVE'S PHOTOS ARE (AND YOU HAVE TO AGREE THAT THEY ARE!!) THEY CAN'T POSSIBLY SHOW ALL THE NUANCES OR TINY INTRICACIES OF A BUNDLE IN AN ONLINE IMAGE. WE TRY HARD THOUGH!
Since corals are not only rare but seriously endangered
worldwide, perhaps their replacement by something else should be cause for celebration rather than lamentation. ("Good thing!" "It's about time!") On the other hand, collecting has made me somewhat of a purist in these matters, and if real coral cannot be used I'd like to see some other *natural* product used as the substitute (jewelers have been doing wonders with spiny oyster shell, for example).
I'VE HAD THIS SAME THOUGHT WITH REGARD TO CORALS AND SHELL (GREEN SNAIL, IN PARTICULAR). AND I HAVE THE SAME DILEMMA. OBVIOUSLY I LOVE NATURAL BEAUTY FOUND IN NATURE BUT NOT TO THE EXTENT THAT I WANT TO TAKE PART IN THE ANIMAL'S EXTERMINATION.
I THINK THE PURIST IN US HAS TO DECIDE WHAT IS MOST IMPORTANT AND DECIDE TO EITHER PARTAKE OR DEFEND.
To be continued .....
NEW Stuff ..
... should be posted within a week. Some of the artists in this showing are:

Hope you'll stay tuned for that!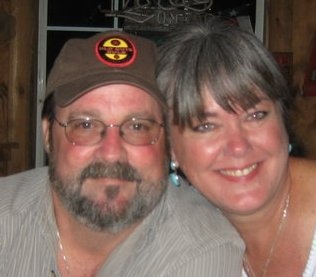 Dave & Darlene
Zunispirits.com