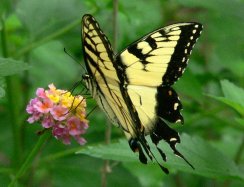 09.03.08
Gustav the butterfly sipping at the lantana.
No wind, no power outtages and very little rain ..
so no worries @ Zuni Spirits.
Hi everybody! Just a brief note to let you know that if Gustav takes the projected path, he'll likely pass just over our heads here in Houston County. (We are about 45 minutes from Lufkin, Texas.) At this time we aren't expecting anything more than tropical storm wind and lots of rain but we might lose power and since we are in a very wooded, rural area it might be out for a few days. We'll be back online as soon as we are able!
Here's the best interactive hurricane map:
MSNBC
.