New Stuff posted on Friday
We're posting a variety of carvings to the site on Friday evening at 7 PM Central time. We hope you'll check in to see what's new.
AND New Videos, too!
There are five new videos on our Zuni Spirits channel @ youtube.com. We hope you'll check those out and subscribe so that you'll always be alerted to the new guys when they are added!
MICHAEL COBLE Jet Raven
TIM LEMENTINO Marble Sheep
GEORGIA QUANDELACY Turquoise Bear
DANNY BOOQUA Pipestone Ant
MAXX LAATE Turquoise Ram
Conversations with a collector, Part II
Quite some time ago a well-seasoned collector posed some questions to me in a private email. Some of the questions were pointed to rather "touchy subjects" but I felt compelled to answer out of my respect for him and more importantly, out of my affection and admiration for the Zuni carvers. With his permission I am going to share parts of that discussion here and in weeks to come. Your comments are always welcome. I have to approve them (to eliminate ads and weirdos) but I won't censor anyone who keeps things civil and to the point. Carvers, I especially would love to hear from you and, if you wish, you may remain anonymous. Please use the "COMMENT" link at the bottom of the post. This is part II of the conversation. Scroll down to our previous post to read the first part. Thanks!
Collector: "It has always been my understanding that, as a diverse group, Native Americans who produce handmade products (i.e., not just Zuni carvers) are adverse, even violently opposed to using unnatural materials in their creations --whether it's fiber, clay, stone, fur or some other material. To think fetish carvings might be going the way of crass commercialism or expediency is abhorrent to ponder even privately, let alone share with persons like yourselves and those you work with. Nevertheless, the suspicion is there. Can you dispel my worst imaginings?"
Darlene: "HERE IS WHERE I AM GOING TO BURST YOUR BUBBLE. SORRY. I AM SURE THERE ARE THOSE ARTISTS (AT EVERY MEDIUM) WHO STRINGENTLY DEFEND THEIR USE OF ONLY NATURAL MATERIALS BUT IT HAS BEEN MY EXPERIENCE THAT COLLECTORS TAKE FAR MORE INTEREST IN THE ORIGIN, PURITY AND SANCTITY OF MATERIALS THAN ANY OF THE CARVERS I KNOW.

IF YOU ASK HERBERT HIM WHAT KIND OF TURQUOISE THAT IS .. HE WILL USUALLY SAY.. "BLUE", OR "I DON'T KNOW". IF YOU ASK IF IT IS HUBEI OR US, FOR THE MOST PART CARVERS DON'T KNOW THE STONE'S ORIGIN .. NOR DO THEY CARE SINCE IT IS ALL FROM MOTHER EARTH. ANY MANY CARVERS DON'T KNOW (OR WON'T SAY) IF THEIR STONE IS NATURAL OR STABLIZED. IT'S JUST NOT AN ISSUE TO THEM. THE CREATION OF THE ANIMAL, THE PRIDE IN CRAFTSMANSHIP IS THEIR PRIORITY. AND HERE I WILL SAY THAT I AM OFFENDED BY THE STANCE OF SOME DEALERS CLAIMING THAT EVERY PIECE OF TURQUOISE THEY OFFER AS ZUNI FETISHES IS COMPLETELY NATURAL. UNLESS YOU HAVE PURCHASED THE RAW STONE FROM A DEALER (AND SOME ETHICAL DEALERS DO), YOU CAN'T BE SURE OF ANYTHING THESE DAYS. EVEN THE EXPERTS HAVE TROUBLE DISCERNING IT NOWADAYS AND VERY LITTLE NATURAL STONE IS USED IN CARVING. GOOD QUALITY TURQUOISE IS USUALLY RESERVED FOR JEWELRY MAKING. FRANKLY STABLIZING IT ALLOWS FOR MORE CREATIVITY AND DETAIL. SO IT CAN BE A PLUS IN THAT RESPECT."
Collector: "Is it taboo even to call attention to such matters, let alone compound the error by expressing a personal opinion on them?
Darlene: "IN SOME CIRCLES IT WOULD BE .. IN SOME OF THOSE CHAT GROUPS OF YEARS AGO, YOU'D BE EXCOMMUNICATED FOR EVEN SUGGESTING THE IDEA! I KNOW FOR A FACT THAT COLLECTOR ONCE POSED THE QUESTION ABOUT A PICASSO MARBLE MOUNTAIN LION VS. A TURQUOISE MOUNTAIN LION (BOTH CARVED BY JEFF TSALABUTIE) AND WHETHER IT WAS THE STONE WE LOVED MORE THAN THE SKILL OF THE CARVER. HE WAS TARRED AND FEATHERED AND RUN OUT OF CYBERTOWN FOR EVEN SUGGESTING SUCH A THING. BUT IT WAS A LEGITIMATE QUESTION IN MY MIND. AFTER ALL, ISN'T THE CARVER FIRST INSPIRED BY THE STONE?"
Collector: " While we're on the subject, I've noticed what appear to be (real? synthetic?) "shafts" of coral and turquoise being used for eye inlay. That is, rather than IN-lay the appropriately sized mineral in the stone carving, and nicely smoothing it over, these little "twigs" are stuck in and left jutting out 1/8 or an inch or more --unrounded, unsmoothed.
Darlene: "I HAVE SEEN THIS VERY METHOD EMPLOYED BY 'MASTER CARVERS'. IT SEEMS TO BE THE TIME HONORED METHOD HOWEVER, SOME CARVERS ARE MORE FASTIDIOUS ABOUT THE SMOOTHING OF THE INLAY THAN OTHERS ARE. CLEARLY SOME ARTISANS TAKE MORE PRIDE IN THEIR WORK THAN OTHERS. AND YET, AREN'T WE MORE SYMPATHETIC IN THIS EFFORT TO THOSE ELDERLY CARVERS WHO MIGHT NOT SEE AS WELL? DO WE HOLD DIFFERENT CARVERS TO DIFFERENT STANDARDS? WAS AN EDNA LEKI CARVED IN THE SIXTIES MORE VALUABLE - AS ART - THAN ONE CARVED WHEN SHE WAS IN HER EIGHTIES WITH HER SIGHT FAILING? NOT TO ME .. I THINK THEY ARE ALL PRECIOUS. BUT IT'S A PERSONAL CHOICE AND DETERMINATION.

SHODDY CRAFTSMANSHIP IS JUST THAT. AND TO BE QUITE FRANK, THOUGH WE SEEK OUT THE BEST .. THERE ARE TIMES WHEN WE MUST ACCEPT SOME CARVINGS THAT ARE CLEARLY NOT THE ARTISAN'S BEST WORK .. BUT THEY NEED THE MONEY AND THE CARVING IS NOT UNACCEPTABLE AND WILL APPEAL TO A COLLECTOR SOMEWHERE DOWN THE LINE. SO WE OFFER IT. THE ARTIST IS ABLE TO CARE FOR HIS FAMILY AND A COLLECTOR IS HAPPY TO BUY THE PIECE AND APPRECIATES IT "WARTS" INCLUDED.

SOMETIMES THE FIRST CARVINGS OF A NEW CARVER ARE CHARMING .. BUT NOT TERRIBLY GOOD. THE SAME PHILOSOPHY HOLDS WITH THESE PURCHASES, AS WELL. WE WILL BUY THEM TO OFFER ENCOURAGEMENT AND PRIDE IN CRAFTSMANSHIP KNOWING FULL WELL THAT THESE FIRST EFFORTS, WHILE SHAKY, WILL CULMINATE IN AN ARTIST WHOSE WORK WE ARE SOON PROUD TO REPRESENT!"
Collector: " I won't mention names this time (it hurts!) but this happens even when gemstones of various colors appear studded on corn maidens. Moreover, the practice is not unknown even among highly respected carvings. Perhaps I should accept it; after all, they are the carvers, not me."
Darlene: "I AGREE. THEY ARE THE ARTIST. WE TEND TO PUT THESE FOLKS UP ON A PEDESTAL AND IN FACT, THEY HAVE OBLIGATIONS TO MEET .. THEY AREN'T 'JUST' ARTISTS .. THEY ARE ALSO SUPPORTING THEIR FAMILIES. WHILE HONORING A CULTURAL TRADITION, SUCH AS FETISH CARVING, WE PATRONS HAVE TO ACCEPT THE TRUE NATURE OF THESE FOLKS DAILY LIVES."
Collector: " But the fact is I find it objectionable."
Darlene: " DON'T COLLECT THAT ARTISTS'S WORK!"
Collector: "And in this case, I am consciously making a judgment call.
Darlene: "CERTAINLY YOUR PEROGATIVE."
Collector: "The practice offends the high regard I have for carvers I truly admire (and in some cases revere) because 1) the resultant effect makes the piece appear unfinished --or finished in haste; and 2) it seems to violate fundamental principles of traditional practice as I understand them."
Darlene: "AS YOU UNDERSTAND THEM. NOT EVERY CARVER IS BOUND BY TRADITION, PRIDE, RELIGION, STANDARDS .. SOME CARVERS ARE SIMPLY TRYING TO MAKE A LIVING, LIKE ___________, WHO OWES US MORE THAN $___. IN CARVINGS AND HAS BASICALLY STOLEN OUR GOOD WILL AND FAITH ALONG WITH OUR MONEY. BUT MAYBE HE HAD TO GET HIS CHAIN SAW OUT OF THE PAWN SHOP SO HE CAN CUT FIRE WOOD FOR THE FAMILY. WHO KNOWS? IT IS THESE KINDS OF LIFE ISSUES THEY DEAL WITH AND NOT NECESSARILY CREATING FINE ART. IT IS WE WHO IMPOSE THESE LOFTY IDEALS ..."
Collector: "I wonder: Can you relate to either of these issues? Do they jump out at you as they do me, and do you find them annoying? Do the carvers discuss these things amongst themselves? Do they discuss them with you? (Do you discuss them amongst yourselves?)"
Darlene: "SOMETIMES. BUT I HAVE ALSO BOUGHT CARVINGS THAT WERE PURELY UNSALEABLE (FROM ANY STANDPOINT) FROM SOMEONE ON THE STREET WHO OBVIOUSLY NEEDED A MEAL TO DILUTE WHATEVER WHAT IN HIS SYSTEM.

AND I RESENT THE 'HOT CARVERS' CRANKING OUT MEDIOCRE PIECES SIMPLY BECAUSE SOME ANGLO TRADER HAS HYPED THEM (AND SELLS THEM AT INFLATED PRICES) TO A COLLECTING PUBLIC IN NEAR HYSTERICS TO OWN ANYTHING THEY MAKE."
Collector: " In writing you these thoughts, I'm reminded of how in the early years of the last century (the early days of statehood, Mabel Dodge Lujan, Fred Harvey, etc) promoters, tourists, and anthropologists greatly impacted makers of pottery and jewelry in the Southwest by establishing their own arbitrary and completely spurious criteria for what constitutes tradition and what doesn't --even what constitutes "Indian-ness."
Darlene: "WELL MAYBE. EVERY COLLECTOR HAS THEIR OWN CRITERIA FOR WHAT IS GOOD, BEAUTIFUL, SYMBOLIC OR 'NATIVE'. IF YOU COLLECT PURELY FOR BEAUTY, YOU AREN'T LIKELY TO HAVE ANY OF LEONARD HALATE'S DINOSAURS IN YOUR COLLECTION."

"IF YOU COLLECT WHAT IS WHIMSICAL AND ORIGINAL, YOU AREN'T LIKELY TO OWN ANY EMERY ERIACHO BEARS."

"IF YOU COLLECT ONLY STONES FOUND IN THE SOUTHWEST, YOU AREN'T GOING TO OWN ANY SHELL PIECES, BEAUTIFUL LAPIS OR VERDITE."

"SO BY LIMITING YOUR COLLECTION IN ANY WAY .. YOU MISS OUT ON SOMETHING SOMEWHERE ALONG THE LINE. "

"HAVE CARVINGS GOTTEN SMALLER. YES. ARE STONES SOMETIMES DORMANT AND UNINTERESTING. YES, THEY ARE. DO BUNDLES UTILIZE CONTEMPORARY MATERIALS. MAYBE. BUT WHAT OF BATTERY CAPS AND OLD HAIR COMBS USED BY LEONARD HALATE IN THOSE DINOS? SHOULD PIECES BE FREE STANDING OR IS A PEDESTAL TO STABLIZE A WOBBLY PIECE ACCEPTABLE? THAT ANTLER PIECE BY NORMAN COOEYATE COULD NEVER STAND ALONE BUT THE PEDESTAL HE CARVED AND INLAID SUITED THE HISTORICAL, MUSEUM QUALITY PIECE TO PERFECTION."

"IT'S OKAY TO QUESTION AS LONG AS WE REALIZE THAT THE DISAPPOINTMENT WE SOMETIMES FEEL IS DUE TO OUR STANDARDS .. NOT THEIRS."

"AND HAVEN'T WE, AS ANGLOS, ALWAYS BEEN GUILTY OF IMPOSING OUR STANDARDS ON THEM?"

"IT'S FOOD FOR THOUGHT."
Collector: "God help me, I hope I haven't fallen into the same error! I just want to know if what I think I see is really happening and whether I'm justified in being concerned, in thinking these matters are important. Please help! ("Help" includes being hard on me for my transgressions I've made, however innocent and unintentional.)"
Darlene: "DAVE AND I USED TO BE SO STAR STRUCK ABOUT THE CARVERS. IT WAS HARD NOT TO BE! BUT WE HAVE LEARNED THAT THOUGH THESE FOLKS ARE INORDINATELY TALENTED .. AND THAT WE HAVE GREAT, GREAT RESPECT FOR THEIR CULTURE, THEIR TRADITIONS AND THEIR CREATIVITY, WE CAN'T FORGET THAT THEY ARE HUMAN. AND ALL ARTISTS HAVE GOOD DAYS AND BAD DAYS. YOU CAN'T JUST NOT WORK BECAUSE YOU ARE HAVING A BAD DAY .. BUT THE CARVINGS MADE WHEN THE CREATIVE JUICES HAVE DRIED UP ARE LIKELY TO BE LESS INTERESTING. IT'S JUST A FACT OF LIFE."
Collector: "With sincere thanks --and apologizing for any ignorance I have displayed."
Darlene: "NO APOLOGIES NECESSARY! I AM REALLY GLAD WE HAD THIS EXCHANGE AND I HOPE MY POINTS HAVEN'T SEEMED TOO HARSH. WITH YOUR PERMISSION, I MAY USE PARTS OF THIS EXCHANGE IN A ZUNI SPIRITS BLOG ENTRY, WITH YOUR PERMISSION, AS I THINK YOU ILLUMINATE SOME IMPORTANT QUESTIONS AND CERTAINLY SOME ALL COLLECTORS HAVE PONDERED."
Collector: "Thank you for the thorough and open manner in which you addressed the various points of my inquiry. As often happens when such open dialog occurs, I learned a great deal from your candid responses. Several of your comments were humbling, having the effect of bringing me back to the reality of our carvers. I might add, with irony, that I have been making pottery in recent years and am fully aware of how uneven is the quality of my own work; also that most of my "successes" were just good luck; also that pieces that I consider rejects are coveted by would-be owners as much as any others. Yes! I would be very happy to have portions of this conversation appear your blog. To have the points aired would, I think, do a great service to the Zuni community of carvers and their collectors. I've met a couple of the carvers on visits to Zuni, but not enough --or long enough-- to get past the "star struck" stage. I'm certain that many collectors may never have visited Zuni or even the Southwest. If this is true, then they may never have given much thought to the points I raised."
So there you have it! I hope this exchange was beneficial and enlightening. We welcome your questions or comments, as always!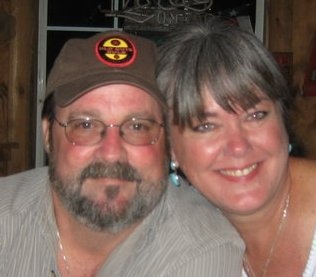 Dave & Darlene
Zunispirits.com