THE SALE:
In hopes we can find a few more homes for the currently listed Zuni fetishes, we've reduced the prices of them again. A couple of them are already at cost -- and the rest are deeply discounted. Take advantage of this sale to pick up gifts for Christmas! I know -- no one wants to think about it this soon but it's coming and why not gift a friend (especially those who just don't get it!) with a beautiful Zuni fetish?
GRATITUDE:
Two weeks ago today we were battening down the hatches in preparation for Ike. Today I walked around the yard looking at the little blossoms and buds that held on or were 'born' to bloom this morning.
We were already grateful that our home and all our family remained safe thru the storm. But after talking with a neighbor less than two miles away who lost 19 large oak trees and two big barns, we're feeling even more fortunate than before.
I continue to make hummingbird nectar thinking each pot (4:1 cups of water:sugar) will be the last for this year. There aren't as many at the feeder during the day and I've reduced the number from eight feeders to only two -- but last evening just before dark there were about 15 birds taking their supper. Our weather has warmed so it may be that they will stay on until the first real cool front comes thru. I'm a little worried that all the feeders they usually sip from on Galveston Island before they cross the Gulf of Mexico are now gone. I know that hummers are resourceful -- and I hope they find food before they venture over the water.

Your generously donated fetishes for the girls of Nepal
AND MORE GRATITUDE!:
We now have the promise* of over 100 donated Zuni fetishes (and 92 received!) for THE JOURNEY OF THE BEARS. And, with Dr. Kottler, we're preparing a brochure that will contain a letter from Governor Norman Cooeyate (which will be translated into Nepali) and a brief explanation of what the carvings represent. Each will be packaged in a purple velvet bag for giving to the girls and their teachers in Nepal this December. Dave and I cannot express fully our gratitude to each of you who donated to this cause. It's one thing to give money - another to give backpacks and school supplies - and all are needed. But to give a spiritual gift from one of our dearest Native American cultures is very, very special and I know that the recipients are going to feel the power and the generosity of these wonderful gifts from all of you. Thank you. Elahkwa.
*If you have not sent your pledged Zuni fetishes, please try to have them to us by the first week of October.
NEW STUFF:
We're working on several projects right now just one of which is our new posting to be announced at a later date. So, please .. stay tuned! Have a great day!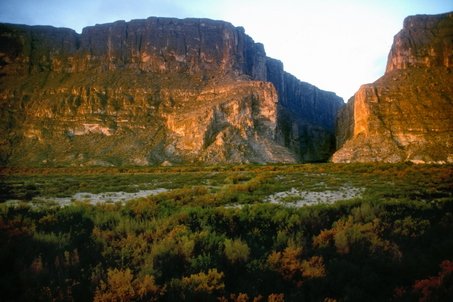 Wilderness is not a luxury but a necessity of the human spirit.
Edward Abbey