And so, a New Year!
Dave and I send you all our warmest wishes for a blessed and healthy New Year. A little prosperity would be welcome, too, no doubt! The last couple of years have been more of a struggle than any in previous memory but we count ourselves among the fortunate that we are still here! And for that, we thank you - our collectors - and our artisan friends in Zuni who continue to send us beautiful works of art to share here at Zuni Spirits.
Thank you so much for your continued support and interest. We promise to continue our efforst to insure that your Zuni Spirits experience is always an interesting and enjoyable one!
ZUNISPIRITS.COM
It's always been our habit to wind down at year's end with a sale which allows you to pick up beautiful Zuni art at the best possible price we can offer. It also keeps us from having to pay more taxes than we enjoy. (Enjoy? Well, you know.)
This past December was no exception and as a consequence, the site is looking pretty slim. Please bear with us as new inventory is enroute and we expect to update the site with new Zuni fetishes by the end of the month. Meanwhile .. all remaining fetishes currently on the site have been reduced to near cost. Take advantage of the sale now .. because like the holidays, everything good must come to an end!
Click photos for more views & info!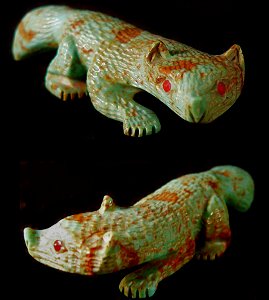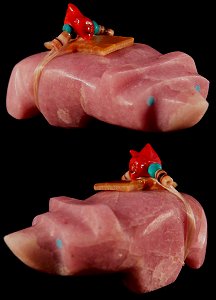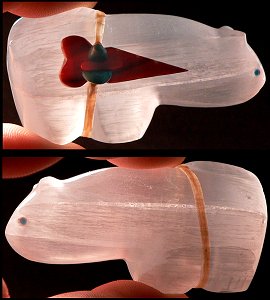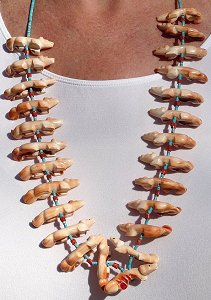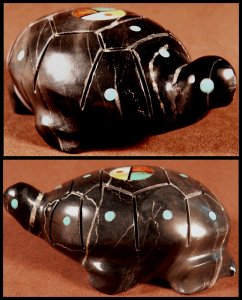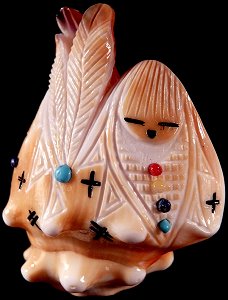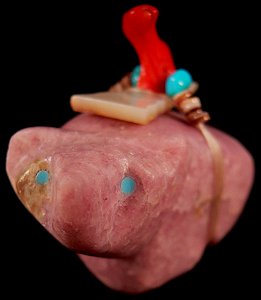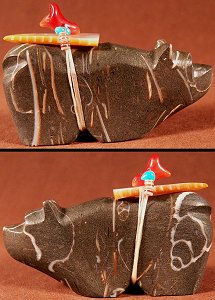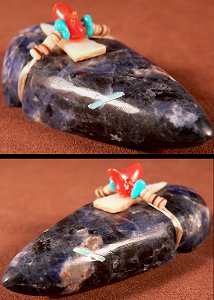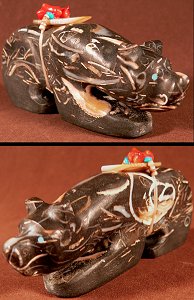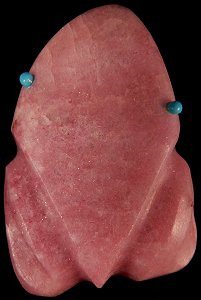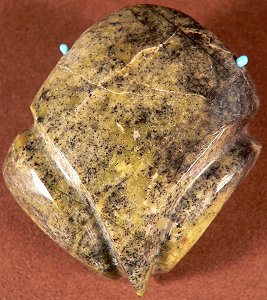 OUR BOOK
Email your book order at this link.
As most of you know, Dave and I published a 'coffee table' type photography book about Zuni fetishes in the Fall of 2008 (just about the time that the economy tanked. Perfect timing!) But the beauty of the book prevailed and we're most grateful for the exposure recently given in NATIVE PEOPLE'S magazine. As a result of that review, we are now OUT of hardcover editions (with more on the way) and only have a few soft-cover editions available. The soft-cover edition ships domestically for $65.00. Once these are gone, it's not likely we will offer soft-cover editions (in this printing) again.
If you would like to order one of the few remaining soft-cover editions or be put on a waiting list for the next supply of hardcovers, just email us. Thanks!
And to those of you who have purchased a copy of the book, we invite your feedback at this link. Please let us know what you think about ZUNI SPIRITS: A Portfolio of Fine Zuni Fetish Carvings.
NEW ZUNI FETISHES
We look forward to another year to share the amazing beauty, symbolism and talent of the artisans of Zuni. We thank you for your interest and look forward to hearing from you soon!
Darlene
darlene at zunispirits dot com