MORE NEW ZUNI FETISHES!
Thanks for the nice response to last week's posting. We're excited about the new Zuni fetishes we have to share with you this first quarter of 2010. Please visit often and sign up for our updates (subscription box to the right) if you wish to be notified by email when there are new carvings @ Zunispirits.com.
Here are this week's offerings: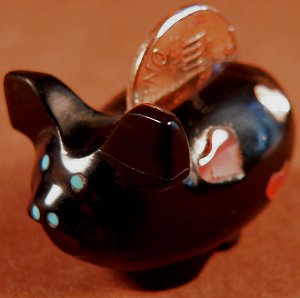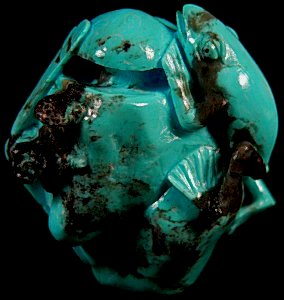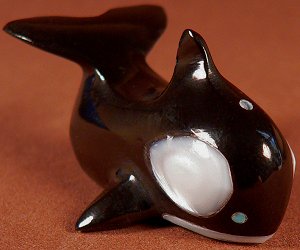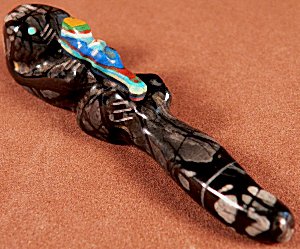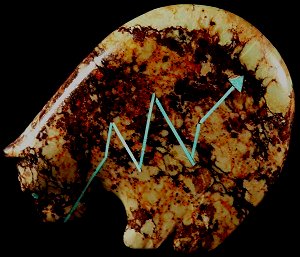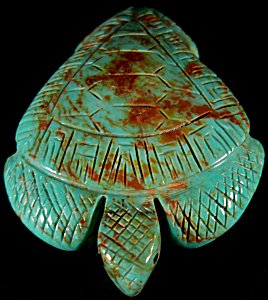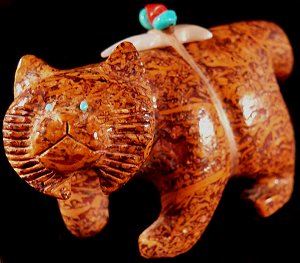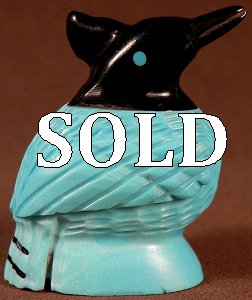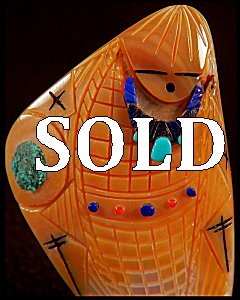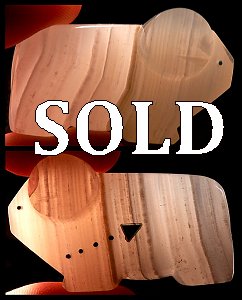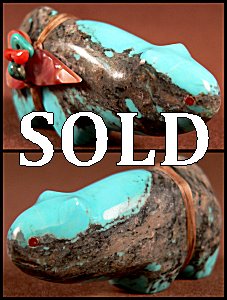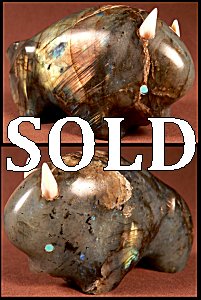 And from our last posting ....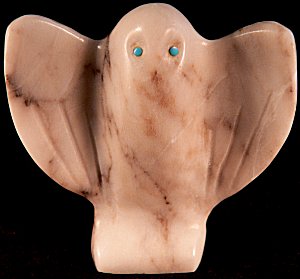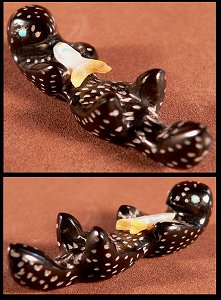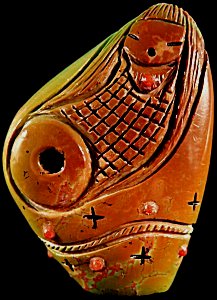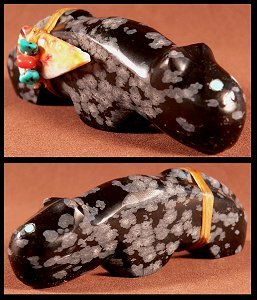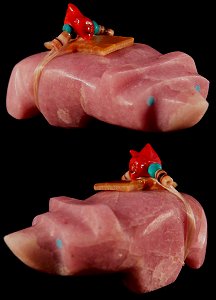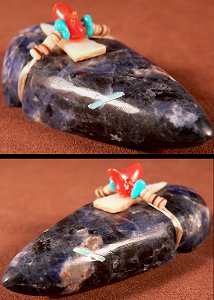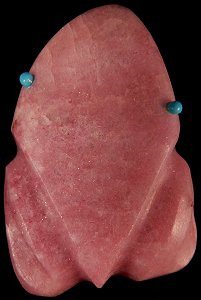 RECENTLY SOLD
Click images to view details & more photos!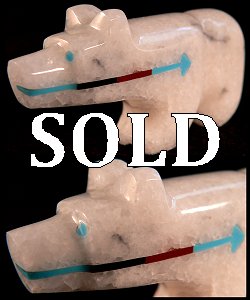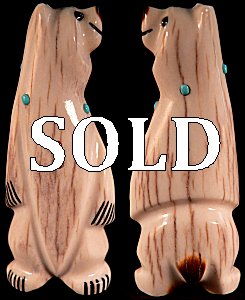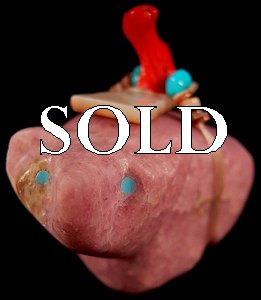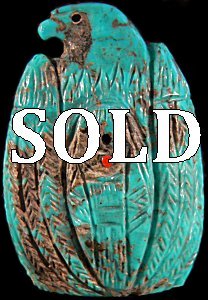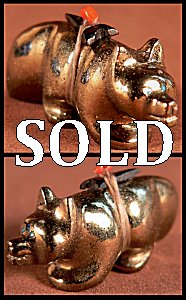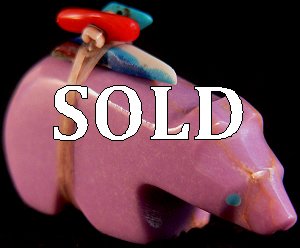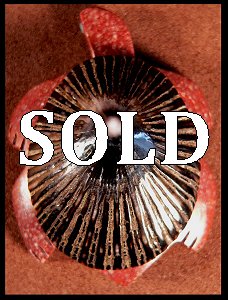 CLICK HERE For an archive of all sold items, 2009
How to order & How we ship
If you see something you like on our site, please click the 'order' link on that page. Your email server should open but if you use something like yahoo or hotmail, you'll need to log in and manually send us an email. Please include the number of the item you are inquiring about, indicate your payment preference (paypal or check/MO), and give us your FULL shipping address so that we can send you the total amount due. (Texas residents must pay sales tax!) We ship all our parcels via USPS Priority/Insured mail. Overseas orders can go either regular priority or priority express which includes insurance. We are not responsible for lost or damaged uninsured parcels, so please keep that mind when shipping outside the US.
OUR BOOK
Email your book order at this link.
We have both hardbound and softcover editions of our book (published in late 2008) available.
The book is 160, 8 x 10", full color pages and features some of the most beautiful Zuni fetishes to pass through Zunispirits.com in our ten years of representing Zuni artisans. With a foreward by Governor Norman Cooeyate, our book is a visual feast for those passionate about Zuni fetishes!
Here are some recent reviews:/p>Here are some recent reviews:
"Longtime art dealers and art lovers David Austin Riggs and Darlene Meader Riggs take the reader on a loving journey into the artistry of Zuni fetish carvings. More than 300 lush photographs are accompanied by expert explanations of these tiny treasures. Whether you collect fetish carvings or just love them from afar, this book will provide much enjoyment. A must-have for the serious collector!"


NATIVE PEOPLES MAGAZINE, Nov/Dec, 2009
"The outstanding contribution of ZUNI SPIRITS is the larger than life size of the photos. Fetishes are hard to capture because they are small, shiny and depth of field is necessary to show detail. This book has full page photographs of many of the pieces. It also shows many fetishes from several angles, something nobody has done before."


GALLUP JOURNEY, January, 2010
Available signed or unsigned in either a hardcover edition (ships to US addresses for $107.) of a soft-cover edition (ships domestically for $73.00). If you would like to order either book, just email us. Thanks!
And to those of you who have purchased a copy of the book, we invite your feedback at this link. Please let us know what you think about ZUNI SPIRITS: A Portfolio of Fine Zuni Fetish Carvings.
If you're curious about the day-to-day happenings of our life here in the woods of East Texas, you might enjoy Darlene's hermit photo-journal. We find inordinate joy in caterpillar whiskers, the beauty of decayed wood and the flight patterns of dragonflies. And don't even get us started on the personalities of our hens! Seriously. Perhaps we should get out more but life here in DRH is just so danged entertaining! Come and see us in Dirt Road Heaven.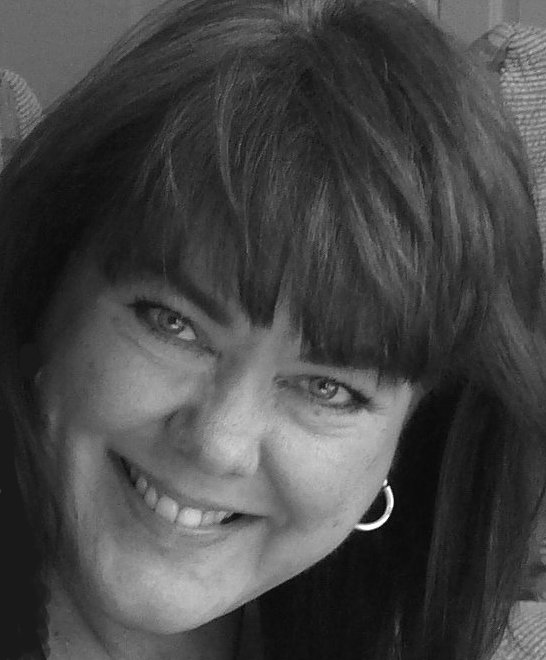 Darlene
darlene at zunispirits dot com