Well, after much delay and distraction we have finally updated Zunispirits.com with some new fetishes. The Zuni fetishes that recently arrived are fresh, innovative and remarkably well carved.
We've heard from Zuni that the news there is just as bleak as elsewhere in the nation. When money gets tight, buying artwork certainly becomes less of an option for most of us. And, since Zuni relies heavily on the sale of puebloan art whether it's fetishes, pottery, paintings or jewelry, times are especially tough there.
Dave and I appreciate all the support Zunispirits.com has received during this tough financial time. We know there are lots of places your money could go and we're grateful that (thanks to you!) Zunispirits.com continues to perservere! And as long as can hang in there .. we'll do our best to continue representing the artisan community of Zuni and to bring you the finest in Zuni fetishes from your favorite carvers. As always, we very much appreciate your time and interest and we hope you find a new Zuni fetish that gives you joy and happiness.
You may view the fetishes here or via our website, Zunispirits.com
NEW Zuni fetishes posted June 12
Click images to view details & more photos!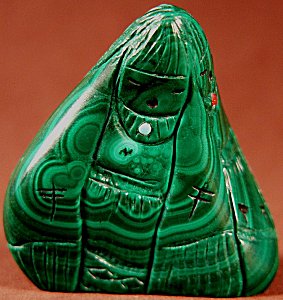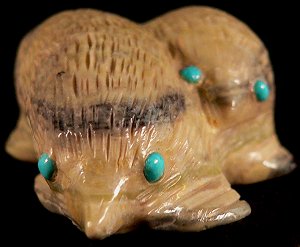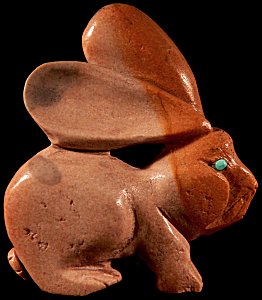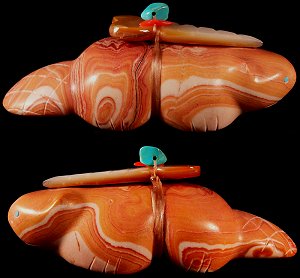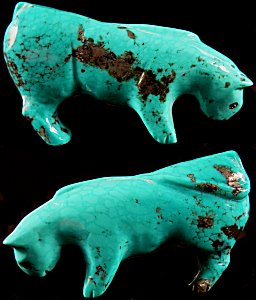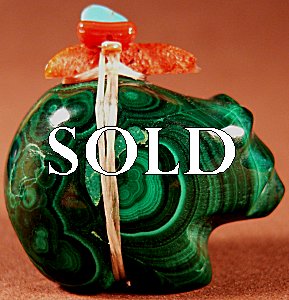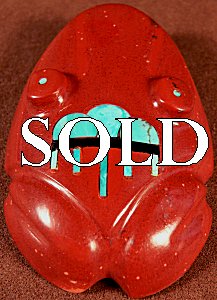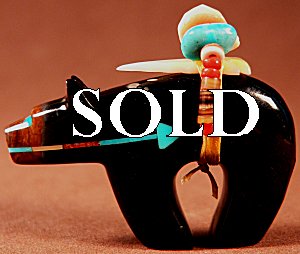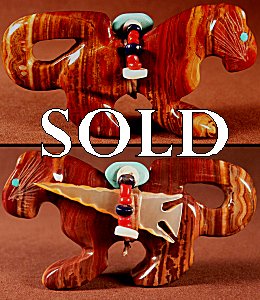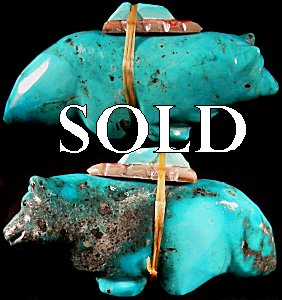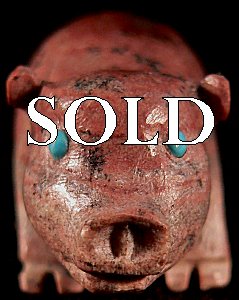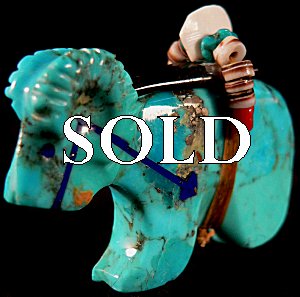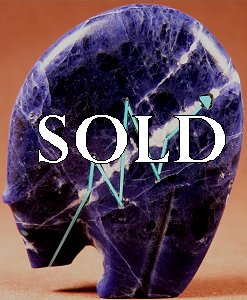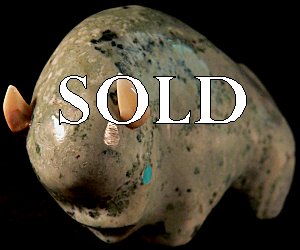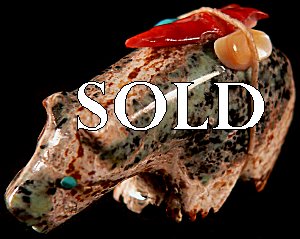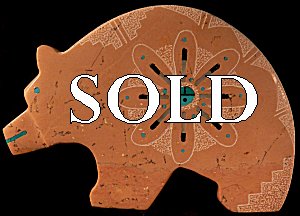 Zuni Fetishes on SALE - Further price reduction 6/8!
Click images to view details & more photos!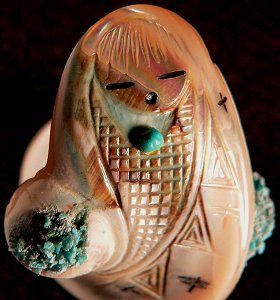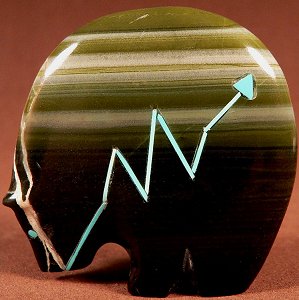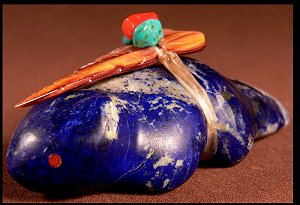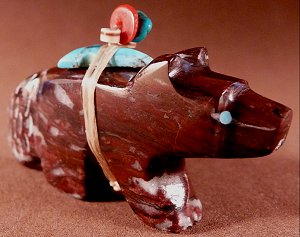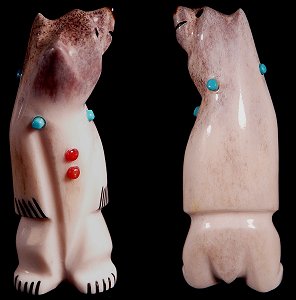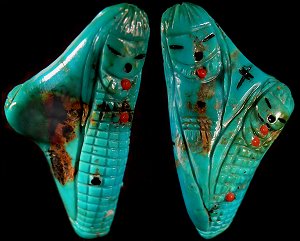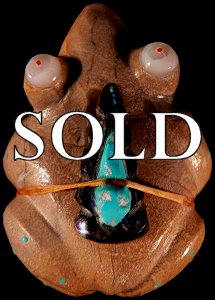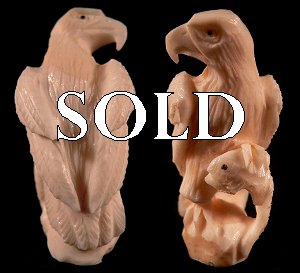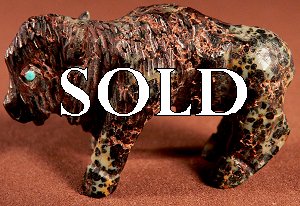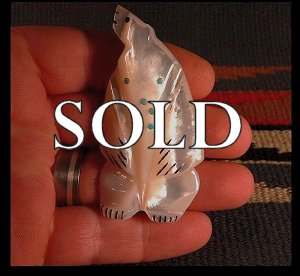 Manuel Weahkee
The posting of Manuel Weahkee pieces is imminent (early next week?) We are just waiting to get confirmation from Manuel on some details about the pieces. You can read more about this branch of the Weahkee family at this link.
ZUNI SPIRITS: A Portfolio of Fine Zuni Fetish Carvings
We recently received a new shipment of our book "ZUNI SPIRITS: A Portfolio of Fine Zuni Fetish Carvings". If you aren't aware that Dave and I have written this book, you can read more about it at this link.
Hardcover, domestic shipping = $107.00
Hardcover, OS Priority shipping = $112.00
Hardcover, Express priority (includes insurance) = $126.00
We also have a few copies of our book in paperback edition and they are priced as follows:
Softcover, domestic shipping = $65.00
Softcover, OS Priority shipping = $70.00
Softcover, Express priority (includes insurance) = $84.00
If you'd like to order a copy of our book just email us and let us know which version you prefer (& signed or not) and your shipping address & preference.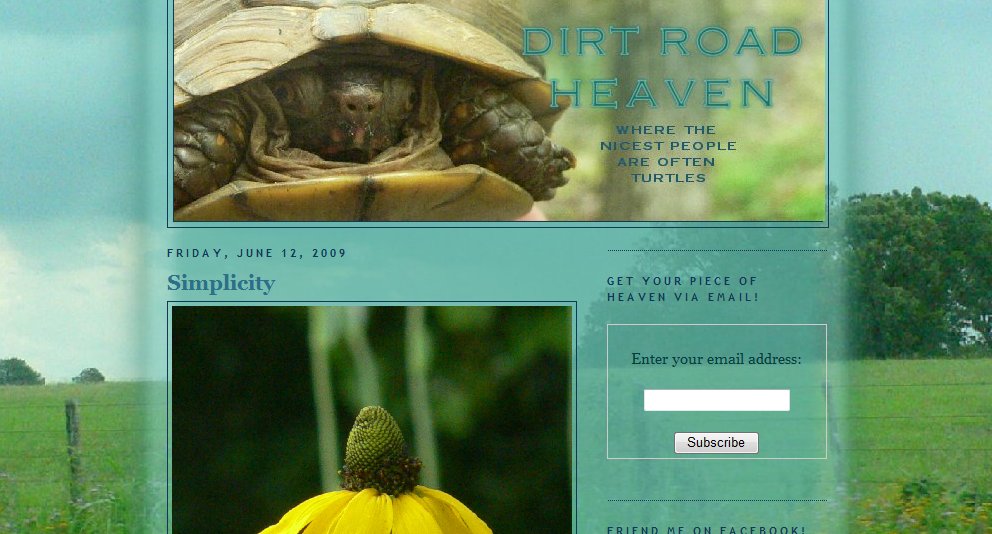 I continue to chronicle our adventures here in Dirt Road Heaven via my blog. If you enjoy mine and Dave's nature photography and need a dose of barefoot joy to ward off the asphalt blues from time to time, I invite you to stop by, sit with me on the deck or by the pond or in the meadow and marvel at all the wonders our little chunk of woods provides. Our novice efforts at gardening and chicken ranching will also be shared as well as our voluminous experience with sunsets, dragonflies and box turtles. You can subscribe to receive DRH via email, RSS feed, via google friend or facebook. Come see us @ Dirt Road Heaven where shoes are strictly an option.